What To Write In Birthday Cards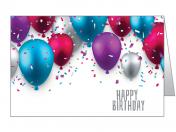 In life, it seems that some people are very proficient in thinking up the right thing to write inside cards no matter what situation. However for others, trying to piece together a few words into a warm personal message is like taking the SATs. If you are having trouble finding the inspiration about what to write in birthday cards, we've put together some easy to follow directions below so that you can get it right every time.
Birthday Cards For Friends 
The type of relationship that you have with your closest friends will help to determine the style of message you should write. For example, some friends may enjoy a joke about their age while others may be looking for a more sincere message. Take your time to determine the best type of message that you can give to your friend and speak from the heart.
Birthday Cards For Mom 
When it comes that time of year, it's a good time to show mom how much she really means to you. Be sure to include reasons why you can't imagine life without her and why you cherish her. This is one of the best things that you can do to show mom you care on her special day.
Birthday Cards For Dad 
Writing Charity Greeting Cards Birthday Cards for your dad can be a lot different than your mother. Dads tend to react better to jokes about their age and express their love a bit differently than moms. Including why your dad is so awesome or why you will always look up to him is another plus that you should think about including in your cards.
Birthday Cards For Her 
Whether she is your wife or your girlfriend, showing you care with some kind words about why she is yours will always do the trick. Women tend to hang on to the mementos of your love together and giving your lady a card full of appreciation is one that she will definitely cherish for a long time. Remember to throw in some compliments about her as you will be sure to brighten her day.
There are many different ways to celebrate the birthday of someone you care about. Sending them a personalized card is one of the best ways to show them your feelings and brighten their big day. With the tips above, you will be sure to always find the words next time you need to fill out messages in birthday cards.